Support British Asparagus with National Asparagus Day April 23rd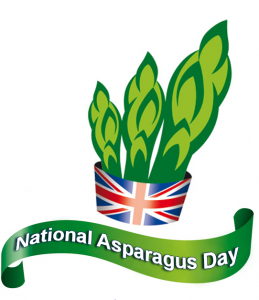 St. George's Day has become synonymous with the start of British Asparagus Season, thanks to the Vale of Evesham's British Asparagus Festival. Some of the best asparagus in the world is said to come from this area of the country – also known as the UK's fruit and vegetable basket.
The asparagus season only lasts for about six weeks from 23rd April into early June, so the British Asparagus Festival wants everyone to celebrate it when it starts. Just as leeks are synonymous with St. David's Day, it seems right that asparagus is the symbol of St. George's Day.
In the Vale of Evesham, National Asparagus Day celebrations begin at the National Trust's Bretforton pub, The Fleece. The first-cut round of asparagus is the centre of festivities that include Morris Dancing, a blessing and a special ode. Surrounded by characters such as Gus, the asparagus man, the Asparamancer and St. George himself, and accompanied by a cavalcade of Morgan Cars, the asparagus is taken to a different destination each year to benefit charities.
It's easy to celebrate at home, by making sure asparagus is on the menu for friends and family.