Labour-intensive to grow, asparagus are the young shoots of a cultivated lily plant. They're considered to be one of the delicacies of the vegetable world, with a price tag to match, and have a distinct, intense savoury flavour. Sprue is the term for young, very slender asparagus. The young shoots of the asparagus plant are cooked and eaten and when the harvesting season is over the asparagus shoots are left to grow into "ferns". Planted as a crown, the Asparagus take two years to establish, but once in production, the asparagus crowns can be productive for ten years or more.
While French asparagus is purple, the British and American varieties are green. In contrast, Spanish and almost all Dutch asparagus is white, as it's grown beneath the soil and cut just as the tips emerge.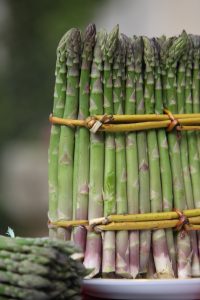 Asparagus has been used from very early times as a vegetable and medicine, due to its delicate flavour and diuretic properties. Asparagus was cultivated by the ancient Egyptians, Greeks and Romans. Fresh asparagus was eaten fresh when in season and the asparagus was then dried for use during the rest of the year.
Asparagus is often referred to as a "Super Food" because it's low in calories, contains no fat or cholesterol, and is very low in sodium. Worcestershire is often acknowledged as having ideal conditions for growing asparagus and many believe it's where the best English asparagus is grown. In "Old English" asparagus was also called "Sparrow Grass" and the term still survives locally today.