History Of The Festival
For many years, Vale of Evesham asparagus has become more and more popular following the success of the famous asparagus auctions at The Fleece Inn at Bretforton. Talks between tourism industry providers and local growers took place to decide how the area could capitalise on this popularity and "fill in" the week between the auctions at The Fleece with other asparagus related events.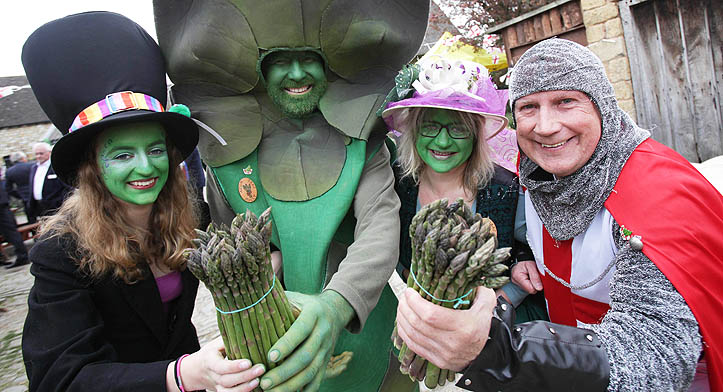 The Vale Asparagus Festival was born!!!
In its first year (2006) largely through the marketing efforts of The British Asparagus Growers Association the Festival attracted a lot of media interest and also a lot of visitors to our area, as well as increasing the awareness of this amazing British vegetable.
Plans for the 2007 event progressed well, with the National promotion by ourselves, The Growers Association, The Festival, TV and radio interviews and numerous articles in National magazines, newspapers and food related journals  which the area has enormously benefited from.
Our friend and local celebrity Mr Henry Sandon (BBC Antiques Roadshow) opened the event and celebrity chef Rachel Green became the face of the campaign and even attended the Festival doing cookery demonstrations.
What was interesting during the promotion of the 2007 event was that, suddenly the Vale Asparagus Festival was being promoted by the media as "The British Asparagus Festival" and by this time we were communicating with the Stockton Asparagus Festival in California – who are very interested in our new venture. This was really exciting for us, especially as their Festival is an enormous event worth many thousands of dollars to their local economy.
For further information please contact
Angela Taylor
Tourism Officer
Wychavon District Council
Tel: 01386 565373