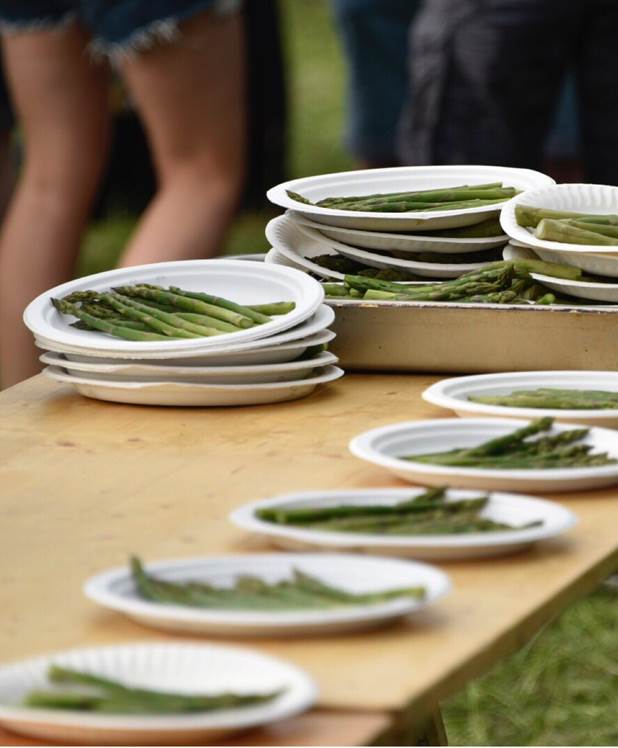 Asparagus Eating Competition
The ever popular Asparagus Eating Competition returned to this years' AsparaFest, and this year was special because Vale of Evesham Asparagus was awarded EU protected food name status in December 2016, ranking it with other protected food and drinks  such as Champagne, Melton Mowbray Pork Pies and Cornish Pasties, to name a few.
Asparagus lovers (and some not) signed up to take part in this famous and unique competition where  participants had to eat ten asparagus spears in one minute, to be crowned king and queen
Due to record entries this year, the competition was ran on both Saturday and Sunday.  Saturday saw Chris Larkins crowned as King and he ate his asparagus in 32 seconds, and  Theresa Foster was crowned Queen with a time of 40 seconds. On Sunday, Robert Jewkes was crowned King  with a time of 35 seconds and Theresa Foster had another attempt to protect her crown and was victorious with a time of 37 seconds.
The asparagus crowns were made by Enchanted Florist, the winners were then presented their crowns by Gus the Asparagusman. The competition never fails to make people have a good giggle!