Asparagus protected status to be celebrated in Europe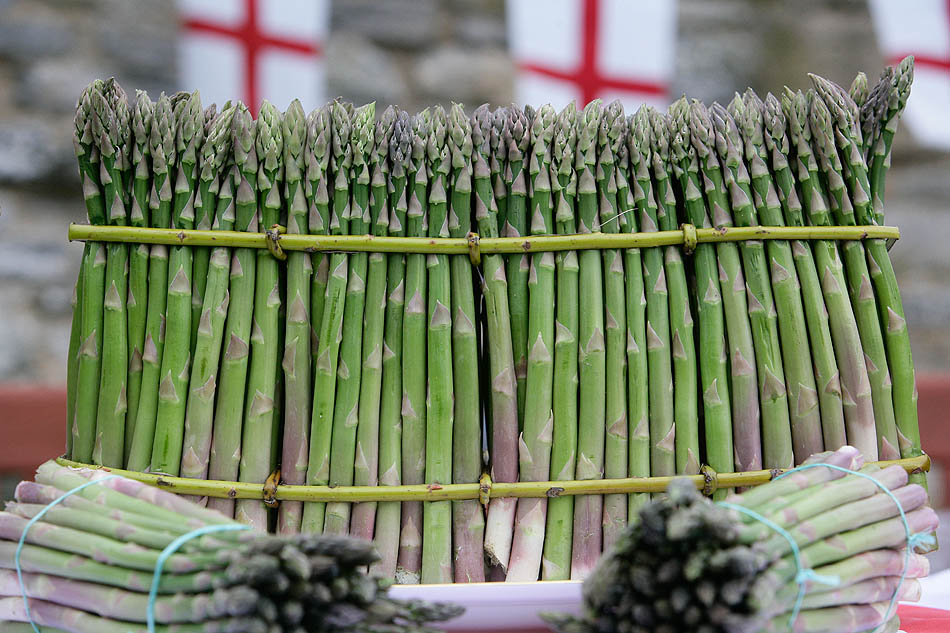 Vale of Evesham asparagus is on a mission to the EU next week to encourage its European neighbours to go green as part of the celebrations for this year's British Asparagus Festival
MEP Anthea McIntyre will host a visit to the European Parliament by growers and aficianados from asparagus growing centre the Vale of Evesham in Worcestershire.
She said: "If you love fresh asparagus this is some of the most delicious you can get. This is our chance to shout about it to Europe and the world."
Accompanied by mascot Gus the Asparagus Man as well as St George, the delegation will deliver asparagus to the EU to celebrate and say "thank you" for the granting of EU Protected Geographical Indication (PGI) status to Vale of Evesham Asparagus earlier this year.
The team willl be greeted outside the Parliament on April 25 by McIntyre, who will then take them inside to lunch with MEPs.
Among the delegation will be festival chairman Nigel Smith; Matt Foster, managing director of West Growers, of Defford near Pershore; festival director Tash Daley; Angela Tidmarsh, tourism officer for Wychavon District Council and co-founder of the festival; grower and farm shop-owner Darren Hedges; and Wychavon marketing and events officer Steve Knight.
McIntyre said:  "It took four years of hard work to win PGI status but it is so worthwhile. Now nobody can attempt to pass off an inferior product as Vale of Evesham – and the protection puts our product on a par with Champagne or Parma ham.
"I am looking forward to welcoming them all to Brussels and spreading the word that you haven't really lived until you'v e enjoyed Vale of Evesham asparagus."