Aspara-Blog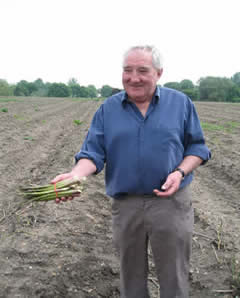 "Our asparabus tour began when we picked up the most unlikely green "hitch-hiker" en route to the famous Fleece Inn at Bretforton where we had morning coffee. Owned by the National Trust, the Fleece is the home of the legendary Asparagus (Gras) Auctions which have taken place for decades. The landlord, Nigel Smith provided a most informative talk about the Fleece and the forthcoming Asparagus events being held there. Our "hitch-hiker" aka "Gus" the Asparagus Man handed out bags which contained amazing information about the area.
After touring more of the delightful Vale, we arrived at The Almonry Heritage Centre where we experienced the "Asparagus Showcase".  This was an opportunity to learn about the history of the Vale asparagus.  We were then taken to meet Gary Andrews, a legendary Vale asparagus grower (in the centre of the town!) who presented a most entertaining and informative talk. We were able to see it growing, and then had the opportunity to buy the freshest asparagus I have ever tasted! Our lunchtime stop in the market town of Evesham gave us the chance to savour fresh, local asparagus. A selection of eating places was suggested- but most of the coach party decided to savour this most quintessential of English vegetables at the riverside Raphaels Restaurant, where the infamous rope Ferry links Evesham to Hampton.
If you have only ever seen and tasted green asparagus, and want to sample the less well known purple variety our visit to Revills Farm Shop in Defford was the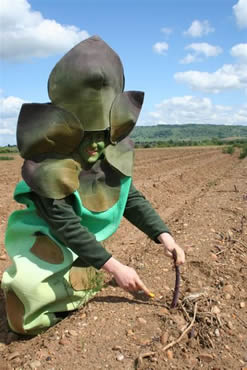 perfect end to an asparagus filled day. Following a short talk by the owner Darren Hedges and then a wonderful cookery demonstrations, we were able to watch it being cut, and again Gus made himself "useful".  We had some free time to browse in the farm shop and some of our party even sampled a delicious cream tea – the perfect end to a perfect day!!